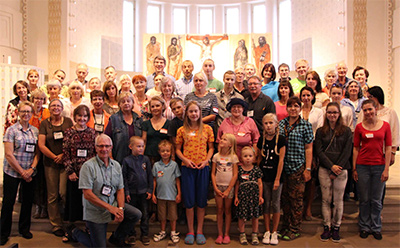 Our first day of class, as always, was a combination of welcoming back old friends and greeting new ones. We have a total of six different classes this year: beginner, intermediate and advanced adult classes, a high school class, a children's group, and a pastor's class. Renovations at St. Paul's are now complete and so we have more space available to us.
On Wednesday we visited the Tartu Academy where, as Siimon and Eenok shared what's happening at the institute, it is apparent that God is working through them. Thank you for the blessing of the largest new class they've ever had.
Pray for the pastors and congregation of St. Paul's Church. Thank God for their gracious sharing of their space and resources every year as we take over much of their building for the week. Ask God to bless them in their ministry, which also includes a daily soup kitchen, a day care, and many other outreach programs.
Pray for our language camp. Pray that God will send new people each day and that relationships will be formed that will continue and grow in the weeks and months to come.
Pray for all those who struggle to deal with pain resulting from childhood hurt. Pray that God will send people to support, comfort and encourage wherever such help is needed.
Pray for the youth of Estonia. Pray that the young people who know God will be bold in their witness, that God will give them the words to share truth with their friends, and that their lives will shine light into the darkness of this nation.
Pray for a woman being tested for cancer, that her tumors will be benign.
Pray for comfort for Kerli's family following the death of her mother on Wednesday.
Pray that the farm animals of an older couple be protected from predators; pray also for their health.
Pray for Estonian freedom and that the people will return to the Lord. Pray that they will learn to turn troubles over to God. Pray for revival in this tiny nation.
Pray for the children of Estonia, that marriages may be strong, that families may grow in faith and love for Jesus. Pray for protection from addictions and for healing where it is needed. Pray for provision through work.
Pray that God will open our eyes to the people around us who need to be seen, who need to be loved.
Thank you for your support!
The 2016 Tartu, Estonia Mission Team