In Remembrance
My Princess
You had me at "Hello" and it never faded. You gave us two sons, both were a miracle from God. You survived and became stronger after several near death surgeries and health issues. Yet your faith in God and love for family never wavered. You were such a little thing but boy you were packed full of love, grace, kindness and happiness. God has decided to call you home. We as a family know we have a SPECIAL ANGEL in heaven looking down on us now. Until we get to be together again know how much I love you and always will.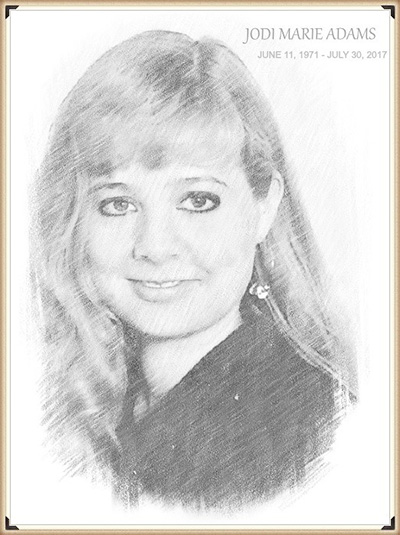 Jodi Marie Adams, 46, of Eldora, Iowa passed away Sunday, July 30th to natural causes, passing away on the 29th anniversary of her and her husband's first date. There are pending services being planned at this time. Creps-Abels Funeral Home is taking care of Jodi and her family.
Jodi was born on June 11, 1971 to her parents John and Connie Johnson. She was baptized July 4, 1971 at Bethany Lutheran Church in McCallsburg, where she was later confirmed on October 12, 1086. Jodi attended Colo-Nesco high school graduating with the class of 1989. On October 14, 1989 Jodi was united in Marriage with Timothy Adams at Bethany Lutheran Church in McCallsburg. Jodi spent most of her life living beside her husband Tim and being a mother and grandmother. Jodi enjoyed many things including cooking which she was known for making Norwegian style dishes and cakes. Jodi was also an avid florist and was known for her love of flowers. Jodi was a member of the Bethany Lutheran Church in McCallsburg and was baptized, confirmed, and married there.
She is survived by her parents Connie and John Johnson of Story City (formerly of McCallsburg); her husband Timothy Adams of Eldora; children Coltin (Michelle) Adams of Colo, JT Adams of Eldora; grandchildren, Victoria Adams and Savannah Duepree; sisters Robin (Jeff) Collins of Nevada, Phyllis (Dave) Minnehan of Churdan, and Christine (Dave) Skinner of Zearing and many nieces and nephews.