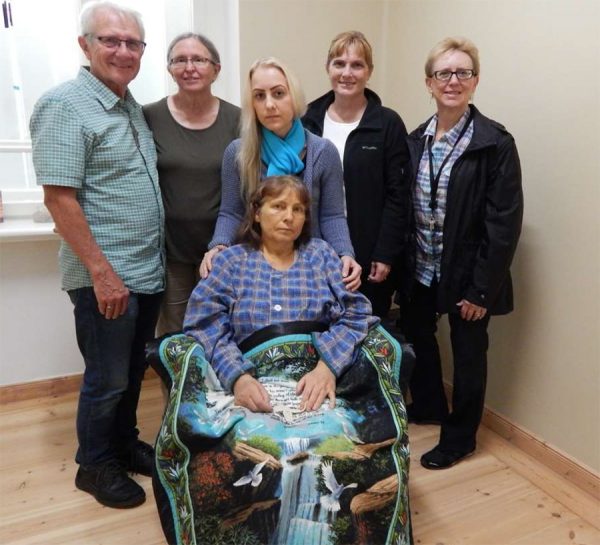 Thank you for your prayers for Sunday; all our team members were blessed as we visited a number of different churches. Thanks also for your prayers for Pastor Bob and those team members who spent time in prayer with a terminally ill woman in a care center on Monday morning. Please continue to pray for this woman and for her daughter, a student at the camp.
On Sunday, Pastor Bob preached at Pastor Eenok's church in Mustvee; he was accompanied by Patti, DeDe, Lori, and Jake. They witnessed a rare Estonian baptism and enjoyed a wonderful lunch and time of fellowship with Eenok and Eha. Lori was greatly impacted by the joy on the face of Eenok during the baptism.
Barbara and Perry attended worship at Pastor Andrus' church, where Barbara shared her testimony; following the service, they went with Andrus to a home for those with mental challenges. They were greatly touched by Andrus' interaction with the people as he led them in worship.
Linda and Richard attended worship at St. Paul's in Tartu, the church where our camp is held. It was a special service to recognize all those confirmed over the past fifty years.
Pam, Mot and Pastor Kathy attended worship at the congregation of Pastor Urmas, where Pastor Kathy gave the message. Following the service, we had the privilege of praying with a young man who's been a Christian for only four months. We then traveled to Pastor Aivo's church, where they have a twice-a-year tradition of holding Sunday afternoon worship in the cemetery to remember those who are buried there. Linda and Richard joined us for this special time of worship, after which we returned to the church for a communion service.  Over lunch prepared by Aivo's wife, Heidi, we talked about the challenges that congregations experience in both Estonia and America, especially those in small rural Estonian communities. Aivo requested prayer and before returning to the hostel, we anointed and prayed for Aivo and his family, as well as for Matthew, a lay leader of the congregation.
Bob and Patti were able to spend an extended period of time with Bill, a Chinese man staying at the hostel. Bill is an alcoholic resisting God. As we walked to the church last night, we met a man at the gate of the church, who spoke no English but who clearly was in need of help. He cried as we prayed for him.
Pray for this man, for Bill, and for the multitude in this nation who are struggling with addictions, struggling with identity, struggling with a lack of hope.
Pray for marriage and the condition of marriage in Estonia.
Pray for the team, that we will "keep alert, persevere, pray for the saints, and that also we will …. open our mouths boldly to proclaim the mystery of the gospel" (Ephesians 6:19).
Pray that camp attendance will be grow each day, with people excited to return.
Pray for new Christians, that their faith will grow and mature, especially in this hostile environment.
Pray that as the team leads the camp, we will be open to the leading of the Holy Spirit at all times, even when it conflicts with our agenda.
The 2016 Tartu, Estonia Mission Team