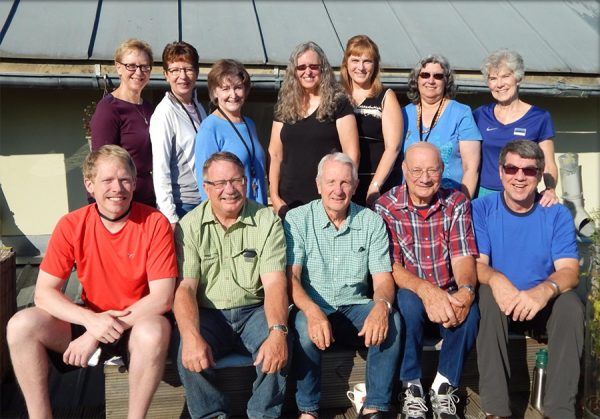 The Tartu team has gathered over the past week. Saturday evening, we were able to have the whole team together just in time for evening devotions in the Men's Room (Perry, Richard, and Jake's room). Unfortunately, devotions were cut short by the fire alarm. Thank the LORD it was a glitch due to construction. This gave us the opportunity to meet some of the other residents, who are students from neighboring countries here for a training camp. We finished our devotional time with hymns sang in the parking lot.
Yesterday we were blessed with a beautiful sunny day without rain, the first in 2 weeks. Today, Pastors Eenok and Siimon Haamer showed us the places in southern Estonia that Pastor Eenok, his mother, and brother hid-out from the Soviets in order to keep from being arrested and deported to Siberia. They were in hiding from 1949 to 1955 and the story is still inspirational today.
Below is a prayer list. It includes specific prayers for our group as we will be splitting up and visiting several different churches tomorrow – a testament to relationships and spiritual growth that is occurring between our team and the Estonians.
Pastor Bob will be preaching at Pastor Eenok's Church in Mustvee. Patti, DeDe, Lori, and Jake will also be in attendance.
Pastor Kathy learned just today that she will be preaching at Palamuse with Pastor Urmas Oras. Mot and Pam will also be in attendance.
Barbara was asked to share her testimony at Pastor Andrus Mottus's Church in Kambia. Perry will also be in attendance.
Linda and Richard will attend church services at St. Paul's with Pastors Joel and Kristian Luhamets. This is the church that hosts our camp. It will be a special day at St. Paul's as it is Confirmation Sunday and they will be celebration confirmands over the last 25 years.
At 2:00pm, Pastor Kathy, Mot, Pam, Linda and Richard will attend a special 'mission-type' outreach service at the cemetery with Pastor Aivo.
Kerli Krillo, her mother and the family. Kerli's mother is dying of cancer and in now on palliative care only. They have requested that Pastor Bob, Patti, DeDe and Barbara visit them on Monday morning to pray for them.
Set-up classroom on Monday morning prior to student arrival at 3pm. This will stretch the team as set-up has been delayed to Monday morning to accommodate confirmation celebrations at St. Paul's Church.
GOD has blessed us with your support. Thank-you so much for your faithfulness and prayers.