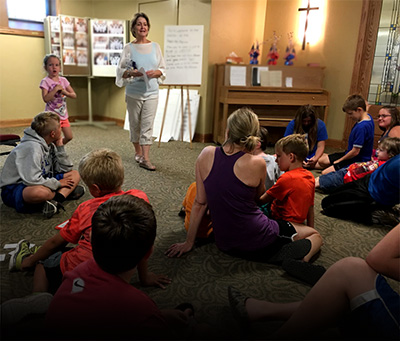 On September, 1893, Rev. Christian C. Holter, then pastor of Salem Lutheran Church in Roland, Iowa, organized Bethany Congregation.  A small group of families and a few single men became charter members.  A statistical record book of Lutheran congregations established between 1843 and 1916 indicted a membership of 84 at the time of founding.
Services were held in the McCallsburg Presbyterian Church, built in 1891.  At that time the Christian denomination also had services in this church on alternate Sundays.  Bethany services were always held on Sunday afternoons.  Early records indicate that most months the congregation met twice, although services were sometimes held on two or three consecutive days.
Today, Bethany Lutheran Church exists to connect people to Jesus Christ and to one another through worship, prayer, Bible study and fellowship, preparing them to go and make disciples in our community and throughout the world. Our pastor is in her office most mornings Monday—Thursday.
Colossians 3:16
16 Let the message of Christ dwell among you richly as you teach and admonish one another with all wisdom through psalms, hymns, and songs from the Spirit, singing to God with gratitude in your hearts.