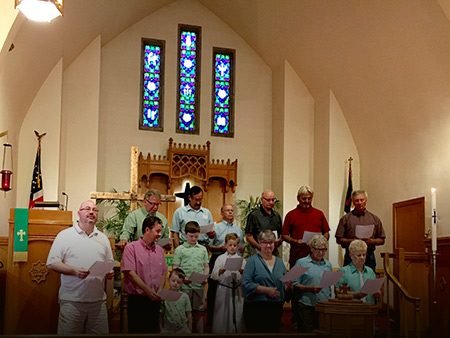 OUR SINCERE SYMPATHY to Dan & Janet Richardson on the loss of Dan's mother, Doris Richardson, who passed away last Sunday.
VISITATION FOR DORIS RICHARDSON, mother-in-law of Janet (Knaphus) Richardson, will be from 5:00 – 7:00 PM today at Adams Funeral Home in Ames.
BRIDAL SHOWER FOR JILL HENDRICK, bride-to-be of Austin Horn, will be held at 2:00 PM on Sunday, October 7, in the Fellowship Hall. Please consider this your invitation. The couple is registered at Target and Crate & Barrel.
NEW SERVING OUR CHURCH BOOKLETS FOR OCTOBER 2018 – MARCH 2019 are available on the table in the narthex. Please pick one up and mark your calendars with your service dates.
WORSHIP SERVICE DVD'S from the previous week are available on the table in the narthex for anyone who was unable to be here last week and would like to watch the service.
OPERATION CHRISTMAS CHILD: This is a great time to begin to look for items to fill a shoebox. School supplies and other items are all on sale right now.
LCMC ANNUAL GATHERING will be held October 7-10 at HyVee Hall Convention Center in Des Moines. Volunteers are needed to put together registration packets on Saturday, October 6, to serve as greeters during the convention, and to usher and assist with communion during our worship services. If you are willing to help with any of these tasks, please talk to Pastor Kathy.
THURSDAY MORNING WOMEN'S BIBLE STUDY is currently doing a DVD study this week on Kyle Idleman's book Gods at War. All women in the congregation are invited to join us at 10:00 on Thursday morning.
SUNDAY MORNING PRAYER MINISTRY in the Fellowship Room is  again available to all. We encourage everyone to bring their prayer needs to our prayer team.
"LOOSE CHANGE TO LOOSEN CHAINS": Our 7th grade confirmands are collecting loose change to benefit victims of human trafficking. All proceeds go toward the work of the International Justice Mission. They have set a goal of $3000.00. So far they have collected $1,355.05.
WINGS OF REFUGE CAPITAL CAMPAIGN continues; donations may be made payable to Bethany. Our goal is $4,000.00. To date, we have collected $2,272.00.