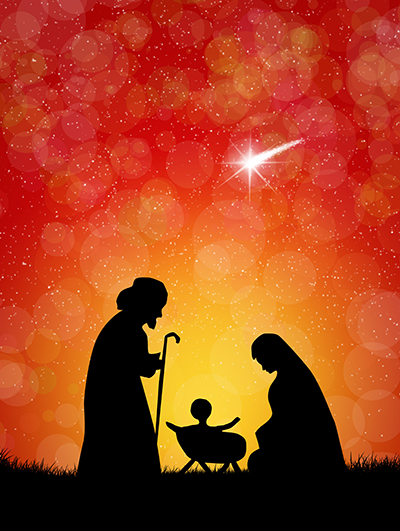 Grace and peace …
Lord, …
Stay awake! Or maybe I should say, "Wake up!"
It's the first Sunday in Advent—this short season leading up to Christmas that the church has set aside to prepare for the coming of Christ. Christmas is about remembering Jesus' first coming as a baby in Bethlehem, but we're also looking ahead to His next coming. And when Jesus returns, it won't be as a newborn baby. It won't be an event that will go largely unnoticed by the world.
Open your Bibles.
The 19th chapter of the Book of Revelation tells us that when Jesus returns, He'll come riding on a white horse. "His eyes are like a flame of fire, and on his head are many diadems …. He is clothed in a robe dipped in blood, and the name by which he is called is The Word of God. And the armies of heaven, arrayed in fine linen, white and pure, were following him on white horses. From his mouth comes a sharp sword with which to strike down the nations, and he will rule with a rod of iron" (Revelation 19:12-14).
There will be no advance notice—one day, the Bible says when we least expect it, Jesus is going to show up. It could be today—or it could be 1000 years from now. While we wait, Jesus said that it's important for us to "Stay awake!"
What does that even mean? Surely it doesn't mean that we're not supposed to sleep. How do we stay awake?
Jesus said, "It is like a man going on a journey, when he leaves home and puts his servants in charge, each with his work" (Mark 13:34). "And what I say to you I say to all: Stay awake" (Mark 13:37).
Who are the servants? Who are the all? We are—Jesus is telling His disciples that He is "like a man going on a journey" and that while He's gone, He's putting His servants in charge.
Who are His servants? We are—everyone who has answered Jesus' call to follow Him. We're in charge, "each with his work." And when the master returns, He expects to see the results of our faithful service to Him.
He's saying that what we do while we wait matters. What we do while we wait is important—really important! The parables in Matthew 25 about the Ten Virgins (Matthew 25:1-13) and the Talents (Matthew 25:14-30) illustrate the judgment that awaits those who fail to be prepared.
They also make it clear that Jesus is talking about more than just religion. He's talking about more than just going to church on Sunday morning. He's talking about more than just occasionally reading a daily devotional or even our Bible.
He's talking about all of our life. He's talking about what we do every single minute of every single day.
Stay awake! "You do not know when the master of the house will come, in the evening, or at midnight, or when the rooster crows, or in the morning" (Mark 13:35).
Stay awake! So that you're ready on that awful day when the Son of Man will separate the nations from one another as a shepherd divides the sheep and the goats (Matthew 25:31-46).
Stay awake! So that you're not caught unprepared.
How can we be sure that we're awake? This brings us to Paul's first letter to the Corinthian church. His letter written to "the church of God that is in Corinth" (I Cor 1:2).
He's writing to the church—this is important. All of Paul's letters, with the exception of his pastoral letters, are written to churches. Not to individuals.
To churches—to ekklesia. Ekklesia means "an assembly, a gathering of people." "Church of God" means that it was an assembly belonging to God. Literally it means "a company of those called out." Called out by God "to be saints together with all those who in every place call upon the name of our Lord Jesus Christ, both their Lord and ours" (1 Corinthians 1:2).
So Paul defines a church as a gathering of people who have been called by God and who call upon the name of our Lord Jesus Christ. The Message puts it this way: "I sent this letter to you in God's church at Corinth, Christians cleaned up by Jesus and set apart for a God-filled life."
Now the Corinthian church is a mess. It's full of division and conflict, heresy, blatant sin, and minimal discipline. Clearly the church is a fellowship of sinners before it is a fellowship of saints.
Paul, however, looks at the Corinthian church as "those sanctified in Christ Jesus, called to be saints together" before he looks at anything else that's true of the church. He focuses on what God has already done in Christ. His confidence isn't based in the abilities or behavior of the members of the church, but only on God's generosity and faithfulness.
Paul is reminding the Corinthian church that, despite every appearance to the contrary, "The grace of God … was given to you … so that you are not lacking in any spiritual gift" (I Cor 1:4, 7). It's important for us to recognize that these words are about the church of God at Corinth, not about individual believers. If we are to fully know God's blessing, if we are to experience all the gifts of His grace which are ours in Christ, it has to be together in fellowship. No individual Christian can claim to be "not lacking in any spiritual gift."
In addition, Paul says, the church has been "enriched in him in all speech and all knowledge": we have received the gifts of prophecy, teaching, preaching, evangelism, speaking in tongues and interpretation of tongues, and any use of the gift of speech which contributes to the building up of the church. As far as knowledge is concerned, the church as a body has access to all the wisdom, insight, discernment and truth that it needs.
The church—not us as individuals. It is only the local church that potentially has every spiritual gift within its corporate life, and that should prayerfully expect God to bring these gifts into mature expression. In giving us His Son Jesus, God has given us all He has; He can give us no more; we have everything in Him. But we can make these gifts a reality in our life together only as we enter more fully into the richness of His grace, only as we pay attention and watch for "the revealing of our Lord Jesus Christ, who will sustain you to the end" (I Cor 1:8).
Stay awake!
Jesus is here right now—right now He is available to sustain us.
If we have been called, on the initiative of God Himself, to share in His Son, Jesus Christ, then God will not abandon us or go back on His promises—ever! We can totally depend on God. The church is His responsibility: He is committed to "the perfecting of the saints."
Stay awake!
I John 2:28 says, "And now, little children, abide in him, so that when he appears we may have confidence and not shrink from him in shame at his coming." John is reminding us that we might be uncertain as to what will happen next, but we can always be certain of God.
So if we have been called to share in Jesus, let us abide in Him that we may gradually become more and more like Him. When we abide in Him, we allow the grace of God to be continually at work in us.
Why then, don't we see this happening more? Why does it so often seem that the church is weak and ineffective instead of strong and powerful?
It is for lack of this kind of vision that people of God are perishing in many places today: either going through the motions of being the church with no real expectation of significant growth into maturity, more faith and more activity.
For many of us, we have forgotten who we are in Christ Jesus. We have forgotten that we are "a chosen race, a royal priesthood, a holy nation, a people for his own possession, that you may proclaim the excellencies of him who called you out of darkness into his marvelous light" (I Peter 2:9).
We're called to "proclaim the excellencies of him who called you out of darkness into his marvelous light." That's what the church is called by God to be doing during this time while we wait for His return. That doesn't mean that we're called to come to church on Sunday morning to hear the pastor tell us about the excellencies of Jesus who called us out of darkness.
It means that, like the men that were entrusted with their master's property while he was away, we're called to take the gifts and talents that God has given us and use them to show Jesus to the rest of the world. Isaiah 64:8 says, "O Lord, you are our Father; we are the clay, and you are our potter; we are all the work of your hand."
When we abide with Jesus, when we remember why we exist, God will make us more and more in His image. In practical terms, what this means is to be in the process of continually learning from Him how to live in the kingdom of God. To put it another way, we are to be constantly learning from Jesus how to live my life as He would live my life if He were me.
So it's not necessarily about doing everything that Jesus did, but rather, as you go about your life, your job, your dealings with family and friends, you are to be constantly learning how to do everything you do in the manner that He did all that He did.
How can you be loving as well as truthful in every situation? How can you respond to various situations as you imagine that Jesus might respond? How can you respond to people, even difficult people, in the way that Jesus would respond?
This is what it means to live in the kingdom of heaven.
Stay awake!
Pay attention to how you're living right now. Right now when you're at work and when you're with your family and when you're all alone. Is what you're doing glorifying God? Is what you're doing showing those around you a picture of something better?
The kingdom of heaven is available to us right now! Not just at some future time after we die. We have forgotten that salvation isn't just about some future event—history has brought us to a place where we think the Christian message is essentially concerned with sin management and not with rebirth or regeneration.
Paul refers in a number of places to believers in Jesus as soldiers, even as "fellow soldiers." He sees the Christian life as similar to that of a soldier in the army. Those of you who have served in the military know that when you become a soldier, you lose all right to do whatever you want to do. You take orders from your superiors and you do what they tell you. The military owns you.
Paul says that when we become followers of Jesus Christ, it's as if Jesus becomes our general. He owns us—and He can call us to do as He wills when He wills. Jesus makes this clear throughout the gospels. Following Him will cost you. The rewards, however, are beyond anything we can even begin to imagine.
Are you prepared to give God a blank check for your life? If you're not, in the words of Dallas Willard, "anyone who is not a continual student of Jesus, and who nevertheless reads the great promises of the Bible as if they were for him or her, is like someone trying to cash a check on another person's account."
Stay awake!
Because one day the "Master of the house will come"—how will He find His house? That depends on the people that "Christ Jesus has called to be saints together with all those who in every place call upon the name of our Lord Jesus Christ, both their Lord and ours" (I Cor 1:2).
It depends on the church.
Brothers and sisters in Christ, the church is the family of God.
The blood-bought church of Christ is the new, supernatural family. Single people, married people, old and young, rich and poor, every ethnicity finds brothers and sisters here. Marriage is temporary. Parenting is temporary. But the church—the new family—is eternal.
What are we doing to build it up? To grow it?